Superior design, affordable installation, and full-service maintenance for any industrial electrical need!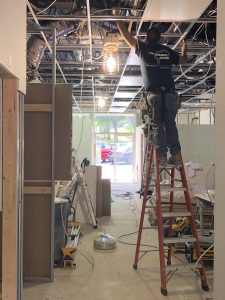 DeLeonardis Electric – Industrial Electrician, Industrial Electricians in Rockland, Orange and Sullivan Counties, NY
We've got you covered.
DeLeonardis Electric has been serving the complex industrial electrical needs of manufacturers in Rockland, Orange and Sullivan Counties for over 40 years. We are dedicated to delivering the highest quality industrial electrical services on time and at competitive prices.
Downtime is one of the biggest profit-killers for the industrial world. You can be assured that when we review the job we will look at your current needs and will give you preventative maintenance advice too.
Our goal as industrial electricians is to deliver the highest level of value. In order to do that, we have to look at things from your perspective and offer solutions that will be most profitable for our customers.
Many industrial electrical situations require special training. You will find our electricians have the latest training. We are expert troubleshooters with extensive experience in industrial electrical repairs and the systematic shutdowns and re-energization of industrial systems.
Our 40 years of experience allow us to handle virtually any industrial need from high voltage wiring, difficult grounding issues to variable speed motor drives of any size.
Our customers have come to value the fact that our estimates are detailed, complete and will include preventative maintenance components. There our times when our estimates may not be the lowest, but you will never have "surprise" extras in your bill. If you are looking for straight forward information and a company that will deliver what they promise, give us a call.
List of expertise, electrical training & benefits we provide:
NYSERTA Solar installations
Confined space trainee
OSHA 30 hour training
NFPA 70
Arc flash personal protective equipment training
All data cable certifications
Expertise in Energy conservation, energy management & building management
Lighting surveys
Energy audits
Power distribution
Telco/Data cabling/networking
Experienced in Explosion proof electrical work
Chemical
Paint
Gasoline
Clean rooms
Wireless communication sites
Grounding – HALO & static, & lightening protection
Warehouse Storage Facilities – including data cabling for automated systems & inventory control
Emergency electrical systems back ups
Generators
UPS universal power supplies
Speed drive motors – no motors too small or too big
Emergency Troubleshooting
Repairs
Systematic shutdowns & re-energization
High Voltage Wiring
Are you ready to contact us? Fill out the form below: